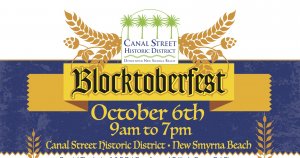 Canal Street in New Smyrna Beach
Shop • Dine • Stroll • Enjoy 
 Join in the fun on Saturday, October 6th by celebrating Blocktoberfest on beautiful Canal Street.  This family friendly event provides fun for everyone all day long from 9:30am through 7pm.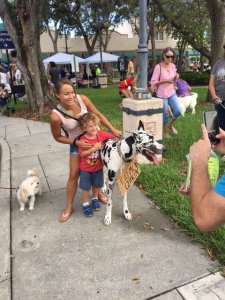 Pooch Parade and Contest: Click HERE to REGISTER
Event Sponsors:    

A&E Pet Boarding

  and  

Critter's Corner  Pet Shop
9:30am     Registration for the parade and contest
10:30am   Pooch Parade
Awards to follow the Parade.  Prizes awarded for best costume and Best Au Naturale in 3 size categories.  For details and to download an application, please click here. 
Utilities Commission of New Smyrna Beach Public Power Day for Families
10am-1pm in front of the Utilities Commission building at the intersection of Canal and Magnolia streets
 

Music along Canal Street all day long

 Ron & Jim, 11:30am-1:30pm at Live Oak & Canal
Ben Wilkins Duo, 12pm-3pm at Live Oak 410 Canal Street
Smokehouse, 5-7pm on the Christmas Park Stage