Feb
27
Sat
2021
4th Annual Chalk It Up!
Feb 27 @ 9:00 am – 5:00 pm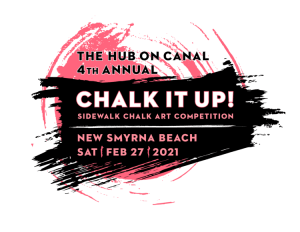 The Hub on Canal 4th Annual Chalk It Up! Sidewalk Chalk Art Competition will be held Saturday, February 27, 2021, 9am to 4pm along Canal Street in New Smyrna Beach in conjunction with the Utilities Commission of New Smyrna Beach, the Canal Street Historic District, Art Fiesta and the City of New Smyrna Beach.
Chalk artists will create chalk masterpieces in 4 ft sq spaces on Canal Street sidewalks. Professional artists have the option to request a 4 x 8 ft or larger space when registering online.
Artist Registration – Register Here

The first 50 registered artists will receive free chalk packs! Sidewalk spaces will be assigned on a first registered, first served basis.
Pre-registration is free online through 6 pm, Tuesday, February 23rd, at hubsignatureevents.com.
On-site registration in person is $10 per participant and only available 8-9am on the day of the event. On-site registrations will be accepted as sidewalk space allows.
Artist Categories
Professional Artist – Any Medium (18 yrs and older)
Hint: If you have made money from selling your art, you are a professional artist.
Amateur Adult Artist (18 yrs and older)
Amateur Artist (14-17 yrs)
Amateur Artist (10-13 yrs)
Amateur Artist (5-9 yrs)
Duo Family Artists (adult and child under 12)
Business
Art Competition Categories
Original art
Photograph — must show the photo to be reproduced and credit the photographer
Masterpiece — name the artwork and credit the artist
Conservation — artwork has a conservation theme
Prizes
Monetary awards will be given in all categories. All chalk artists are eligible for prize money. Number of prizes and prize amounts will be posted on the Chalk It Up! website 2 weeks before the event. Additional gifts will be awarded in special art categories.
Event Schedule
8 – 9am Event sign-in and on-site registration at The Hub on Canal, 132 Canal Street.
Pre-registered artists sign in.
On-site registration is $10 per participant, accepted as sidewalk space allows.
9am – 4pm Artists create their chalk masterpieces.
4 – 5pm Judging
5pm Awards ceremony