About Canal Street Historic District
Our History on the River
New Smyrna Beach occupies a notable place in history as the site of the largest colonial settlement in the United States. Settled in 1768 by Scottish physician Dr. Andrew Turnbull, it was named after the birthplace of his wife Asia Minor which is now known as Smyrna, Turkey.
The history of Canal Street began at the same time when Dr. Turnbull established a series of canals for irrigation, drainage, and transportation. Two and a half centuries ago, flat bottomed boats glided up and down what is now Canal Street to deliver goods from the mainland to the Indian River. New Smyrna Beach soon established itself as an important producer of cane sugar and indigo. The architecture on Canal Street is historically significant, given that the majority of the buildings were constructed during the early 1900s.
By 1920, the population had risen to almost 2,500, and Canal Street naturally found itself the focal point of the town with a thriving business district. This business tradition continues today with the added attraction of destination shopping and a wonderful cultural environment including arts galleries and the New Smyrna Beach Museum of History.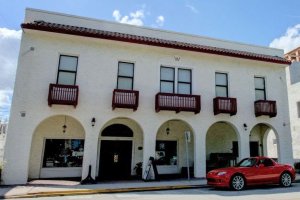 The Canal Street Historic District truly embodies "Small Town Charm - Florida Style." Our historic district features a local marina, the scenic Riverside Park, and a tree-lined historic downtown area with a variety of quaint shops and restaurants. We are host to monthly events such as the Classic Car Show "Cruise Night" and the popular "1st Saturday on Canal Street". Our community comes together annual on Canal Street for the celebratory Halloween and Christmas parades, our Holiday Street festival and nationally recognized art shows. This is small town living at its best. 
Navigate and explore the Historic District map to find your way around our unique, vibrant community, and we welcome you to our friendly Small Town Charm!